| | | | | |
| --- | --- | --- | --- | --- |
| Release | File | Size | Version | Lang |
| | PatControlSetup.msi | 276 [MB] | 8.6.1 | English |
| | | | | |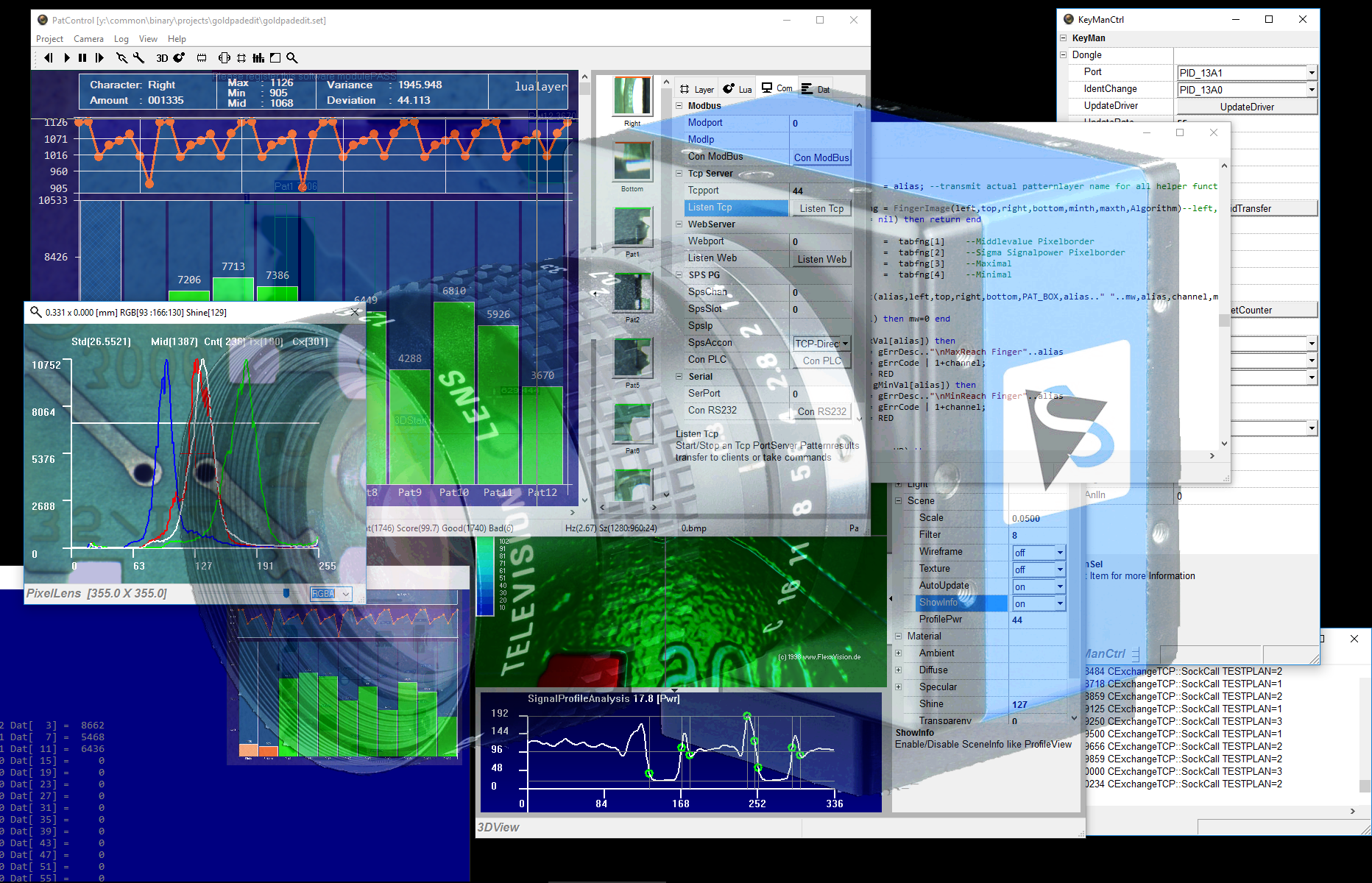 Versionsgeschichte
1997 V0.1 Imageprocessing -Context.Scope.Library with 80% asm code released.
1998 V0.2 ImageLabelDetector implemented to rapid iseling pixelanalysis.
1999 V0.3 USB -Webcam/BT878/VFW/TWAIN driver Support.
2000 V0.4 OpenGL RenderEngine with realtime ImageMapping created.
2001 V0.5 Industrialcamera support with CameraLink.
2001 V0.6 FireWire and CMU 1394 integration, by layering all Hardware images sources.
2002 V0.7 Siemens programmierbare Steurungen (SPS) (PLC).
2002 V0.8 TCP Network integration to send Processinformations to clients.
2002 V0.9 Multiprocessing ImageProcessFilterNetwork -VisualFilter 1.0 released.
2003 V1.0 ModBus -protokoll, focus to WAGO 750 Series.
2003 V1.1 PatDetect created for usable it in excel/word sheets with VBA/S.
2004 V1.2 Dynamical XML -Property trees created to change and edit at runtime.
2004 V1.3 Mouse measure with different calibrations, and points on live camera image.
2005 V1.5 Extend internal ImageLibrary to handle mutiple Bit-Depths. Asm usement to SSE2 CPU's
2005 V1.8 Implement primitives geometry painting into memory without HAL and GDI using Bresenham.
2006 V2.0 PatControl.exe handle PatDetect and bring more ImageSource -Support to handle all Images equal.
2007 V3.0 Integrated -Patterndetection "Area of Interesst" selection at runtime. User defined pattern selection.
2008 V3.3 Integrate massively LUA Support for dynamical parallel ImageProcessors.
2008 V3.5 DeepFocusStacking implemented (Pyramidial algorythm).
2008 V3.1 GPU Support via OpenGL -shaders and NVSDK to handle 3DView with high performance.
2009 V4.0 Hardware -Communications to PIC'S (ADUc7020/ARM's) implemented via RS232 and LUA.
2010 V5.0 Data -ASCII rotation logfile generator, for excel readable logfiles.
2010 V5.5 Rotatation testplan support, controled from remote and editable options via *.set files.
2010 V5.8 Layered -Pixeloperation handling integrated by LuaLayer.dll. Or with specialized Hardcode layers.
2011 V6.0 Cam3DView encapsulate OpenGL -RenderKernel -Engine for using in PatControl.exe.
2011 V6.5 Dynamical -Property trees implemented for Cam3DView with mutiple CameraViews.
2012 V6.6 Publish the established VisionSystems as Downloadable, in free or dongeled exclusiv Version.
2013 V7.0 Internal optimations to support all versions of Windows from XP to W10.
2013 V7.1 Integrate ARM Processorboard support for LinuxBased client, receive Datas and Images via TCP.
2014 V7.2 Extend function amount for LUA -Support Version 5.3 now.
2014 V7.3 Integrate colorcode detection, and color information, interpretation into text classes.
2015 V7.4 Support for VisualFilter / ImageProcessFilterNetwork. Camera layer -extension.
2015 V7.5 Support for DirectShow / Tucsen(HS/TS131/130HC). Camera layer -extension.
2015 V7.4 Imagerecognition supported from LUA-Script to find eqal characters in different images.
2015 V7.6 Support for QuickCam/ProjectSelection/ToolTips and multilangual online documentation.
2015 V7.7 Full screen mode / hideable userinterface integrated./ UI Optimations / PixelLensClassifier
2015 V8.0 MultiPattern Programmless Testplans,3D ProfileView,Measure realtime monitor,internal optimazions.
2016 V8.1 MultiLensView integrated, faster Image drawing, full integrated optional Hardware signal I/O Dongle
2016 V8.2 Jenoptik HighEnd -USB3.0 multiple Camara support integrated
2016 V8.3 For all Camera's including Twain32 support via ConfigFiles
2016 V8.4 Integrate Keyence 3D-LaserTriangulationssensor Audio/Hardware/Dongle/Capturing via ScopeCam
2017 V8.5 Optimized Userinterface, Jenoptik Camera support extended. UI / DxShow / Twain Support extend
2018 V8.6 Extended Camera integration and Item -Process handling
2018 V8.7 Nokra 2D Triangulation stereo sensors integrated.